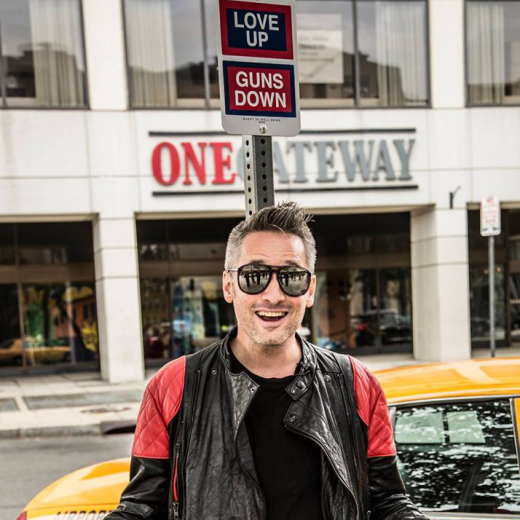 When Killy Kilford moved to New York City two years ago, he was so energized by his new home that he couldn't stop looking up. As he took in his surroundings, he started seeing signs—literally. The street signs that, for many, symbolize authority or uniformity became an opportunity for creativity. Killy noticed that most signs delivered negative messages of things we shouldn't do. What if they became vessels for positive messages instead? And so, Dept of Well Being was born.
Organizations & Art
Before coming to New York, Killy had two intertwining careers. As a strategic transformation consultant for various governments, banks and tech companies, his scientific side was passionate about helping organizations achieve strategic success by enhancing change processes and increasing organizational energy.
I ran workshops with corporate executives, helping them to visualize their solutions and strategy through painting," Killy explained. The artistic process helped teams think outside the box about their strategic direction. In another case, while writing a book for the UK Government, Killy designed an new kind of organizational change model with no beginning or end. "As I sat writing the book in the mountains, I noticed the parallels between the ecosystem of energy around me and energy in organizations." The model is now a British Government standard and used by governments and organizations in over 20 countries.
Killy's other passion is music painting which is directly linked to his experiences of seeing colored shapes when he hears music (a neurological condition called synesthesia).  His painting practice for the last decade included performing on stage with bands like Iggy Pop, Buena Vista Social Club and Edward Sharpe and the Magnetic Zeros, turning their performance into large musical abstraction. Though he enjoyed consulting and painting music, a tension existed between these two endeavors.
"Until I moved to New York, it felt like there were two train tracks: a left and a right. Then, they finally merged into one and I understand that this is who I am."
Blending
As he walked around New York, Killy was instantly inspired by street signs. He noticed the city's "Don't Honk | $350 Penalty" signs and turned them on their head, creating paintings with the same bold simplistic blue and red structure but replaced the words with inspiring phrases such as "Honk Less | Love More", "New York | Loves You" and "Big City | Big Smile". He realized the one-way command could be transformed into a two-way inspirational messaging platform. So, he put together a team of 60 volunteers, curated a fictitious government department called "Dept of Well Being," manufactured 200 government-grade street signs and installed them all over downtown Manhattan.
But his statistical mind didn't stop there. His team then surveyed 601 New Yorkers on the street asking for their opinions on the signs. He knew he was onto something when the survey results were calculated and 92.5% of people said they wanted to see more Happy Street Signs around New York City.
Today with Dept of Well Being, Killy is collaborating with government authorities and communities to share positivity and enhance feelings of connectivity using happy street signs. His most recent collaboration with the City of Newark has already captured national media attention. Killy worked with students from Newark schools and juvenile detention centers to craft powerful messages unique to the city that crossed social and economic lines.
Newark Mayor Ras J. Baraka praised the project, saying, "these signs will tell you to feel good about yourself, your community and other people. It's important to me and I think it will work everywhere."
Adding Creativity
Now that Killy is working with governmental structures and incorporating art, his career and life are flourishing more than ever. He believes there is no situation where creativity doesn't have a place and his own path is the perfect example of this. "I was looking at myself wrong. I was thinking about my right brain separately from my left brain, but now I realize that magic happens when you fuse all the things you know and love into one."
Killy joined Live in the Grey for our  Live Your Best Life CREATE event this October.  His studio is in TriBeCa NYC where he is currently working on his 2014 collection of paintings and sculptures ahead of his solo exhibition in New York, December 2014. Learn more about Killy on his website or contact him on Twitter @KillyKilford. 
Photos courtesy of Killy Kilford and the Newark Press Office.