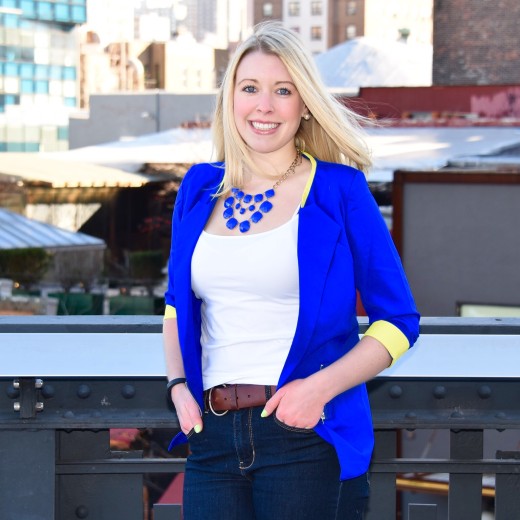 Allyssa Kaiser knows the importance of carving your own path, in and out of the office, and using your creativity to do it.  She currently works as an account executive at the creative digital and social advertising agency, MRY. She blends her personal passion for advertising with her professional expertise by also working as a personal brand consultant, specializing in brand planning and digital and social strategy.
How did you find your grey?
I was lucky enough to start my career in digital and social advertising, something I have been passionate about from the onset. What led me to my current company, MRY, was the agency's entrepreneurial spirit and its welcoming, family-like community. Beyond the incredible atmosphere and talented staff, I knew that joining the MRY team would give me the opportunity to make a name for myself in marketing.
What are some specific ways you live in the grey?
As someone who is passionate about her career, it can be challenging to get away from the office. The advertising industry is notorious for poor work-life balance, and it's not uncommon to find yourself working 80-hour weeks (on Summer Fridays, weekends, and even holidays).
Prioritizing what matters to me most helps bridge the gap—which can mean attending sporting events with friends, squeezing in a few episodes of my favorite binge show on Netflix, or hitting my local spin studio. Scheduling these events a few weeks in advance helps me live in the grey.
What are three things you try to do every day?
1) Eat a healthy, filling (caffeinated) breakfast.
2) Lend a helping hand.
3) Be grateful for the life I've built for myself.
How do you translate your intentions into actions?
A few years ago, I watched a TED Talk by Angela Lee Duckworth called "The Key to Success? Grit." In the video, she talks about the concept of "grit," which she defines as passion and perseverance, long-term. I attribute much of my success to living a life of pure grit.
How have you worked to become qualified enough to do what you love?
My passion for the industry has opened many doors for me. From helping my CEO write his book YouthNation, to leading the Syracuse University Alumni Club of NYC as President, I've learned that raising your hand and putting yourself forward makes you more "qualified" than the person who does not. When people know you want something, almost no one will stand in your way.
How have relationships played a role in your career and what advice do you have about building them?
Relationships are the foundation of the future. I often tell my mentees to start networking immediately. And not just for a job. It's so incredibly important to meet and interact with others in your industry. Those relationships may not lead to anything immediately, but they become invaluable in the long-term.
What part of your morning ritual would you recommend to others?
In my career, it's important to be in the know. Above many things, I prioritize catching up on industry news. Some of my favorite publications include Brandchannel, Popsop, and of course, Ad Age and Adweek. And I would be a fool to ignore Twitter—my favorite channel for staying in the know.
What do you enjoy doing in your free time?
Photography has always interested me. Years ago, I studied Media Arts at a small arts high school in Minnesota, called Perpich Center for Arts Education. It was there that I developed an interest in film, photography, art, design, and eventually, advertising.
Fortunately, New York City is home to many arts—graffiti, street performers, architecture—so there is always something for me to capture.
What principle or goal is guiding you in your life right now?
Live a life of grit.
What do you want to accomplish as an LITG Ambassador?
My goal as a LITG ambassador is to help young advertising and marketing professionals find their Grey.
Learn more about Allyssa's consultancy services here. Follow her on Twitter at @AllyssaKaiser.
The Live Grey Ambassador Program is a collective of grey individuals dedicated to spreading the Live in the Grey message and helping others to blend their personal and professional lives. This series offers some of the wisdom they have to share as they progress on their journey.