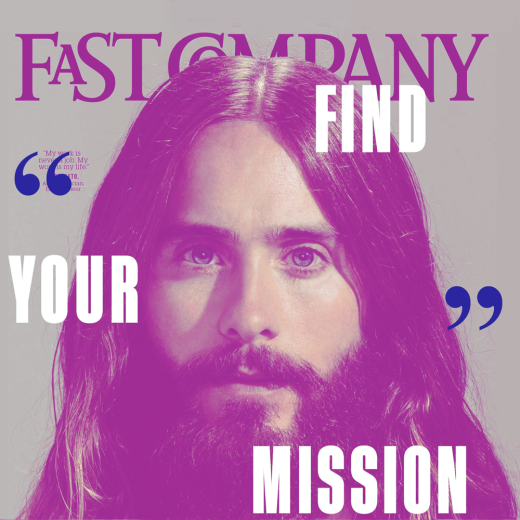 Usually, I wouldn't advocate looking to rock stars or 90's television crushes for role models. But Jared Leto is proving a worthwhile exception to the rule. On the latest issue of Fast Company, the actor/musician/entrepreneur looks straight into what feels like your soul, the words "Find Your Mission" surrounding him.
He is a man with a mission, driven not by a thirst for fame but by convictions. Lately, he's been letting us in on the secrets behind how he's crafted his impressive career. Here are some of the most motivating Jared Leto quotes from his recent trove of wisdom:
 1. "Whatever you do, you have to have deep interest and desire and passion, or you shouldn't be doing it. My work is never a job. My work is my life. If you work your fucking ass off, you can get a lot done."
Leto pinpoints what so many of us aspire to: work that doesn't feels a job. It's not easy to achieve, but as Leto points out, hard work is a huge part of the equation. Working passionately toward something makes it feel more like your life's purpose and less like a job.
2. "I've never been in a hurry. I've always wanted to make the most interesting and challenging work and to be proud of it and to contribute to something special and meaningful."
Creating or being a part of something meaningful often takes more dedication, more time, and more thoughtfulness. But at the end of the day, it will leave you feeling more proud.
3. "I'm a poly-hyphenated whatever… I enjoy the stimulation of learning."
Leto refuses to accept one single label when explaining himself. If you've ever cringed when someone asked you what you do (or want to do), thank Leto for introducing you to your new go-to answer: "I'm a poly-hyphenated whatever."
4. "Is it going to be another experience that falls short? Am I going to have my heart broken again? It's kind of like a relationship: Let me see if I can love again."
Here, Leto compares getting invested in his film projects with getting invested in relationships. They require so much dedication, but they don't always work out. Yet even heartbreak shouldn't stop you from trying again. It's what led to Leto's amazing performance in Dallas Buyer's Club. Your next great project might be just around the corner, too.
5. "I never wanted to make the most movies, to make the most albums… I like to employ the power of no. We all want to say yes, because with yes comes so much opportunity, but with the power of no comes focus and engagement."
It's important to hear, especially from a man who seems to do so much, that in order to achieve greatness you have to make choices and be selective. Focus on exactly what you want to become great at. (See also: quality over quantity.)
6. "You can run on a treadmill and it's never going to prepare you for a triathlon or a marathon. You've got to get out to the street. You've got to learn about obstacles. You've got to make mistakes, because in doing that, wonderful things happen."
It's one thing to imagine what you want to achieve, but real progress begins when you actually start trying. You'll make plenty of mistakes along the way. Those mistakes will help you learn how to get it right.
7. "I think I'm willing to risk everything… I don't see there being reward in another way. At least any worthy one."
Though Leto has reached some high peaks in his career, he is still willing to risk it all. It's part of why he is able to create such potent work. By putting something on the line,  you'll push you further and strive to be greater.