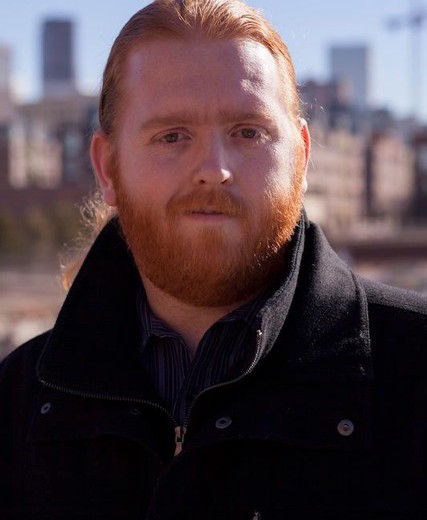 In this series we invite you to meet and learn from thinkers, doers, and believers who find success by actively living in the grey.
 Tim Sparks was born and raised in Pueblo, Colorado. He served in the US Marine Corps for 5 years, and holds a bachelors degree in Mass Communications and Video Production at CSU Pueblo. In 2010 he started Sparks Bros Media with his brother filming commercials, weddings, and short films. In 2012 he moved to Arvada, Colorado to be closer to the action in Denver and started a new video production company Deep Field Cinema LLC with his wife Chrissy.
His films have won 'Best of Festival' in local festivals. His short documentary 'The Blacksmith" screened at the Indie Spirit Film Festival and was also nominated in the 2012 Pikes Peak Arts Council awards for 'Excellence in Film' among two feature films. He recently had a short film that screened in NYC in the top 24 films of the International 2013 Twenty-four Hour Film Race.
What does living in the grey mean to you?
To me living in the grey means that you understand that you might possibly be here in this moment only once. This life happens one time. Every moment should count. Believing in the black or the white keeps you sedated in your life, keeps you from asking questions.
Do you have a boundary between work and life? If so, how do you define it?
I don't believe there is a boundary. There can't be. The boundary is an illusion. Every moment is your life. We were taught to believe there is a boundary, but when you go down the road too far with the 'boundary' in mind you can look back and see that many hours of your life were wasted "working."
Who is a mentor of yours and why?
While I haven't spoken to him in a long time, a teacher in High School, Mr. (Silvio) Caputo, is definitely a mentor to me. I had two classes with him - World Literature and Economics. Mr. Caputo is definitely a storyteller. I remember more of his classes than I do of any other classes in my education.
But, one of the most important things that I remember is that he believed in me. During my last year of high school in Economics I simply was not doing my work. I had slipped into a bad place. He never threatened me with bad grades or failure, which is what would have happened, but he knew I had it in me to do better. He really believed in me.
What's the first thing you read in the morning?
Usually my email. But I try to read something inspiring to start my day off. Currently I am reading Linchpin by Seth Godin.
What are three things you make sure you do everyday?
1. Do one thing to get closer to my goals.
2. When interacting with those closest to me tell them I love them or appreciate them in some way.
3. Read something inspiring.
Do you have a motto?
On my desk I have a poem printed out from the movie, "The Grey" (no pun intended, really).
"Once more into the frey. . .
Into the last good fight I'll ever know.
Live and die on thie day. . .
Live and die on this day. . . "
To me this means to live your life everyday as if it were your last. Which it could be. It really could be. Would you be proud of yourself if it was your last day? Did you make a positive impact big or small today?
How do you ensure your intentions become actions?
Do something everyday to make them happen. It doesn't matter what it is. Somedays are better than others. Even if it is planning out what you will do tomorrow as long as you carry it out the next day.
What's the best advice you've ever received?
"Where ever you are be all there." - Jim Elliot. I actually heard this first from my youth pastor growing up. The concept was extraordinary to me. The moment I heard him say this comes up again and again throughout my life.
It's great to have goals and to look forward to achieving them. But once they are done they are done. So you need learn to love the process in the here and now. Your life is happening right now. What are the things that are in your control right now to change you life? Probably more than you think.
Meet more members of the Live in the Grey Community:
Jeff Raider, co-founder and co-CEO of Harry's
Charlene Lite, musician and yoga Instructor
Holly Ronan, boutique proprietor of Benefit Cosmetics