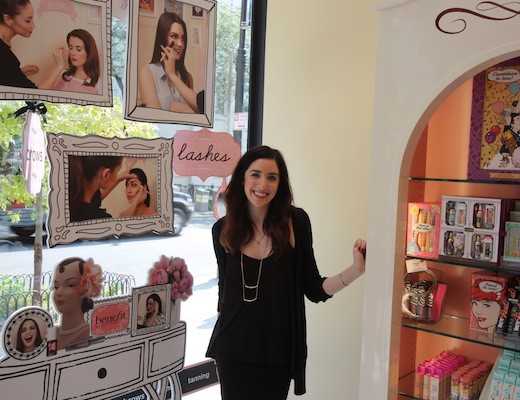 In this series we invite you to meet and learn from thinkers, doers, and believers who find success by actively living in the grey.
Holly Ronan began her career in fashion merchandising. In her own words, "I was really bad at it, my boss knew I was bad at it and I was miserable." Now, Holly is much happier and fulfilled as she thrives in her new chapter as a boutique proprietor for Benefit Cosmetics.
Introduced to the idea of working for the company by her long-time friend (nothing is more important than your relationships), Holly embraced the new career direction despite sacrifices she had to make to do so. She left the city she loves - Philadelphia - her friends, her apartment, her life, to move back in with her parents to take a risk.
"I feel like I jumped off a cliff and sometimes that's exactly what you need to do. I learned that if I'm not good at something and I'm not happy with it, I'm not going to continue to do it. I should be spending my time doing what I'm good at."
Read below for insight and advice on how Holly began living in the grey.
What does living in the grey mean to you?
Living in the grey really means to me that I am happy to go to work everyday, since my job is 7 days a week (sometimes seemingly 24 hours a day), it 's really important to me that I'm happy to get up everyday and go.
If you're not having fun, there's a problem. You're supposed to enjoy what you do; you do it everyday. You're not going to like it 100% of the time but you can't live a life where that number is less than 80%. I've been there, and it becomes a problem. It starts affecting your whole life.
That being said, it also means that I'm making time for the important people in my life, I make a conscious effort to be at dinner every night, and spend time with family and friends to unwind.
Who is a mentor of yours and why?
One of the assistants that I worked for as a merchandise trainee has always been a mentor for me. She gave me the wisdom that it's ok to leave when you're supposed to, and that you don't need to wrap everything up in going to work. She continues to be someone that I can go to for advice on any number of issues and the person who I spoke with the most about making such a big career change. Without her support and wisdom I don't think that I could have clearly made the decisions that I have in my career. Luckily for me this makes her not only a great mentor but also a really great friend.
What are three things you make sure you do everyday?
Tell my girls that they are doing a great job and make sure they feel appreciated; Laugh; Eat Lunch (much harder that one might think!)
Do you have a motto?
"Laughter is the best cosmetics, so grin and wear it!" Full disclosure- that one's Benefit's not necessarily mine, but I try to live it everyday.
Do you work differently than you did one year ago?
Absolutely, a year ago I had already started at Benefit, but as a Beauty Artist. I don't necessarily think I saw the growth potential that I see in myself now. I was just working to move back out on my own. I was impatient and just going through the motions. Over the last year, I've learned to really think about what the reasons behind things are, why is this happening this way and what do we need to do to affect change.
How do you ensure your intentions become actions?
I set goals, I make lists. When I moved home, I set a goal for myself to be back out within the year and I really looked at what steps I needed to do to get there. I find that it's easier to create a large to do list and break it down so that it doesn't feel overwhelming. For example, if I have 20 things on my list, I'll make sure I try to do at least 4 or 5 a day so that I feel like I'm really making moves.
Who or what is inspiring you right now?
Always my Mom, she's raised 4 kids and was a stay at home all of my childhood. She's now not only still raising my youngest brother, but also working two jobs and taking care of both sides of grandparents. She is a true inspiration and the definition of a strong woman. I feel so lucky to have her as a role model for my own life.
I'm also in love with the Dove Real Beauty Sketches Campaign,they have done such an amazing job at showing women how beautiful they are on a daily basis, which is something that we're not shown a lot in our society. My goal for customers coming into our Boutique is to make them feel beautiful by the time they leave no matter what. Oh and to have a LOT of fun along the way!!
[Image: Kirsten Kesicki]
Meet more members of the Live in the Grey Community:
Jeff Raider, co-founder and co-CEO of Harry's
Charlene Lite, musician and yoga Instructor