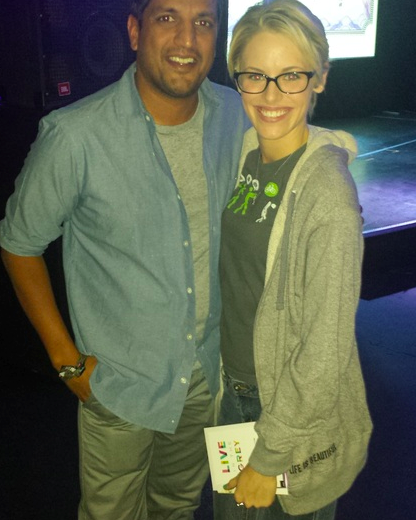 In this series we invite you to meet and learn from thinkers, doers, and believers who find success by actively living in the grey.
We had the honor of meeting Sara Boucher at the Life is Beautiful festival. Sara is a 2nd grade teacher in the busy city of Las Vegas. From getting to know her, it is clear that Sara loves what she does and lives what she loves.
Sara lives the LITG philosophy everyday, "When I am not at school, I am thinking about all of the ways I can help my students and how I can help them become awesome. They are some of the most inspiring and amazing human beings I have ever met. They are amazing, inspiring, curious, brave, and ever so smart. I couldn't imagine doing anything more powerful and heartwarming. They challenge me all the time, make me think, and most of all, they love me just as much I as I love them." 
When Sara's not teaching, she's learning. She recently began a master's program in Educational Technology. In and out of work, Sara is always looking for ways to make her students and herself ready for the future.
Read on to learn more about how Sara lives in the grey!
What does living in the grey mean to you?
To me, living in the grey is mixing up your work and home life, loving what you do, never seizing to learn new things, sharing your life experiences with other, staying positive, always improving, dreaming big, and being happy. Living in the grey is a way of life that anyone can achieve. You just have to make the easy choice of being happy.
Do you have a boundary between work and life? If so, how do you define it?
As most teachers know, teaching becomes your life and it is hard for it to not consume all of your free time. I do my best to leave at 5 o'clock, I don't work weekends, and I stay late on Friday so that I am ready for the next week. Of course, when I have nothing to do during the week I am looking up the latest and greatest in education online. Teaching will never fully leave my home life, it is so addicting, ever changing, and thrilling. I do my best to not let it take over my life but when it does, I make sure that I am enjoying it.
Who is a mentor of yours and why?
My students. They show me what happiness is, teach me patience, express kindness, easily forgive, and never hold grudges for too long. They are fearless, aren't afraid to say the wrong thing, and show you a love that can make your heart burst. They are my life and are my constant inspiration for all of the things that I do in my life. My students have had the biggest influence over my attitude, they are so innocent and naive. As adults, we grow out of that and somehow lose a lot of that. Luckily, I get to be a kid for nine months out of the year and I have those kids to thank.
What's the first thing you read in the morning?
Within minutes of waking up I am reading the snooze button for the seventh time and then I am checking the weather, Twitter, and my e-mail.
What are three things you make sure you do everyday?
Smile, laugh, and tell someone that I love them. During the week I get the honor to do all three of those things with my students.
Do you have a motto?
Eat. Sleep. Teach. Repeat.
How do you ensure your intentions become actions?
I have to write them down or else. I am big on checklists and by writing down a task or putting in my calendar, I can ensure that I fulfill those intention.
What's the best advice you've ever received?
"Stop being too hard on yourself" 
This critical advice made me step back and realize that we are all too hard on ourselves. I do my best to ensure others realize their value and that I realize my own.
What advice do you have for others beginning their grey journey?
First, step back and look at the big picture, if it doesn't matter in a few months, it is not worth the worry. Second, stay optimistic, never give up, and do your best. Third, don't forget that in the end it may just be you all alone so make sure that the choices you make and the things you do leave you with no regrets. Lastly, live your life to the fullest while you get the chance and always live in the grey.
Meet more members of the Live in the Grey Community:
Sal Lahoud and Oren Bass, co-founders of Pave
Charlene Lite, musician and yoga Instructor
Holly Ronan, boutique proprietor of Benefit Cosmetics
Kurt Peloquin, entrepreneur
Image: Maneesh and Sara at Life is Beautiful