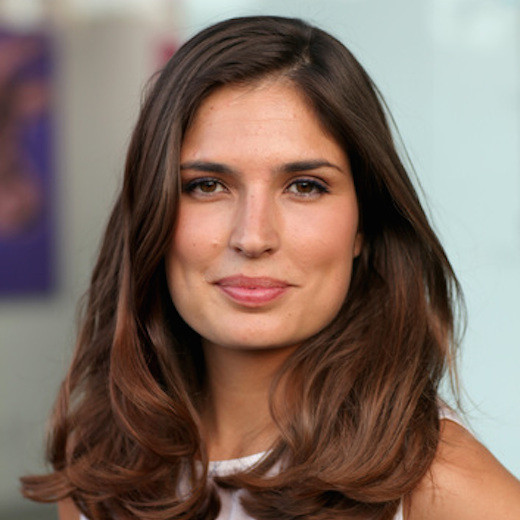 Marine Tanguy has earned a reputation as one of the most talented art dealers of her generation. She has worked in Spain, France the UK, and until recently served as director of The Outsiders, a West End gallery which she helped establish as one of the leading galleries of contemporary art in London.
Now, Marine has collaborated with Steph Sebbag to open De Re Gallery, a brand new fixture on the LA art scene. With this gallery, the two aim to bring a touch of Europe and New York to the West Coast art world.
Marine's artistic vision is inspired by her upbringing on the French island of Ile de Ré, where nature taught her to search for harmony in everything and to explore deep moods and emotions in the subtlety of pigments. Read on to learn more about how Marine lives in the grey!
What does living in the grey mean to you?
Living in the grey means a rather nostalgic and dark romantic vision of the world. Something like John Keats poetry and Turner' paintings. 
When did you realize that you could take your passion for art and make it your career? What was your first step?
I first interned at BBC, Culture Show and realised how passionate I was for the arts. I was only 19 years old and yet it pushed me to apply for the History of Art course at Cambridge University. Later, the thought of having my own art gallery came from my experience as an artistic director for The Outsiders Gallery in London.
Do you have a boundary between work and life? If so, how do you define it?
Very little, I dream, breathe and think for my art gallery and art in general. It is not a job, it is my passion and my artistic output on life. 
Who is a mentor of yours and how do you nurture that relationship?
A grand art collector I've known for years guides me through the sharks of this world and make me feel better in the difficult times. Of course my business partner, Steph, is also a great mentor for me, he has demonstrated over the past 12 years that one can build his own success on his own terms. 
What's the first thing you read in the morning?
I read the news, Le Monde and The Times. 
What are three things you make sure you do everyday?
Smile, call my grandmother and my mother and appreciate my beautiful quality of life. 
What inspires you?
Being a romantic forever, I do believe in aesthetics and music to make my life more beautiful and inspiring. 
Do you work differently than you did a year ago?
No, I have always worked surrounded by the friends I trust, in a close family environment. Every artist, every person I trust them and believe strongly in them. 
How do you ensure your intentions become actions?
By being persistent, patient and romantic. 
What's the best advice you've ever received?
To embrace my madness, the originality and the romanticism in me - it came from the man who most loved me. 
Share your favorite lessons from Marine in the comments below!