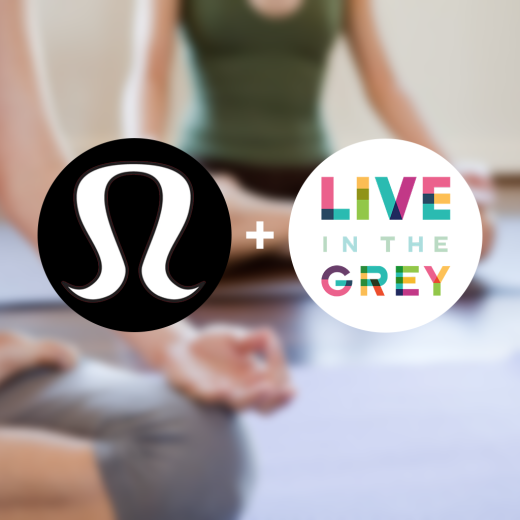 Live in the Grey and lululemon athletica are joining forces to offer meaningful personal and professional development opportunities for their communities this fall.
Both Live in the Grey & lululemon athletica strive to blend passion and profession with their unique manifestos. Throughout the rest of 2014, Live in the Grey will share insights on how to sweat, create and collaborate your way to a better life via unique live experiences and online content. Together, we hope to inspire individuals to Live Your Best Life!
ARTICLE: 5 Insights from Yoga That Can Help You Live Better
In honor of September being National Yoga Month, lululemon surprised New York City with complimentary classes at top fitness studios. Share how sweating fits into your life using #LYBL and @livegrey.
Tap into your creative side and live a more mindful life.
In October, we featured interviews with meditation expert Biet Simkin and artist Killy Killford. We also hosted an event at Lightbox NYC that took attendees on a journey to their past, into their present and toward their future. Learn about the event and see photos here.
We believe collaboration is the key to success. In celebration of this theory, we will bringing together innovators and disruptors in New York and share some of their insights and conversations with you.
UPCOMING EVENT
We will highlight the power of collaboration with a live event in NYC at Soho House. Enter the giveaway to receive a complimentary pass here!