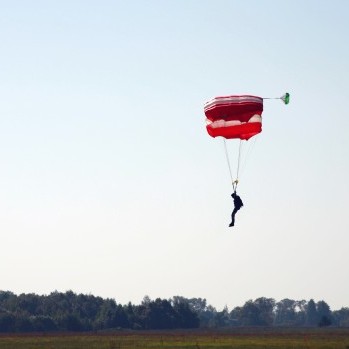 For many of you living in the grey, building relationships is a crucial part of your journey. That may mean networking in a whole new industry or getting to know more colleagues in your large company. Either way, these tips from seasoned entrepreneur Blake Menefee will help you strike up conversations with new people:
When you think about it, networking is a lot like skydiving.
You spend days, weeks, or even months mentally preparing to hurl yourself out of a small plane at 13,000 feet, but as you stand on the edge and look down at the quilted landscape between your shoes, your nerves can quickly paralyze you.
Similarly, you spend so much time hyping up a networking event, preparing note cards, memorizing names, and outlining talking points that you don't actually make any worthwhile connections.
And that's where most people fail at networking (and skydiving, for that matter) — they overemphasize the preparation and the final outcome and forget that it's really about making a meaningful connection with people.
Take the Leap
Networking isn't about sitting behind a computer screen or adding people on LinkedIn; it's about getting out in the world and establishing meaningful relationships. Conversing over email will only lead to surface-level conversations, which won't get you far.
Failing to realize this could seriously jeopardize your business's growth. Luckily, I've spent a lot of time building my network by making genuine connections, and I've picked up a few networking tricks in the process.
1.     Find your customers' customers. Where do your customers hang out? My guess is probably where their customers hang out. Go where your customers' customers go, and you'll probably find your customers. I know; it's kind of confusing. To put it simply: Follow the money.
2.     Be yourself. This one might seem cheesy or obvious, but it's important to note. People often tailor themselves to be more like others, but this will quickly backfire. At the end of the day, people want to work with individuals they like. Be genuine, and focus on more constructive relationships.
3.     Be shameless. If you want to meet someone or do something but you're too afraid to do it, that's a missed opportunity you'll never get back. Not only that, but you'll never know what could have come from it. Once you change your mindset to stop worrying and start doing, you'll be able to lower those mental barriers.
A study at Purdue University found that after several successful field goal kicks, players reported that the goalposts appeared larger. Apply this to your networking: Jump right in and start engaging with people, and it will get easier each time you do it.
4.     Facilitate the conversation. Ask questions, and actually listen to the responses. Good networking involves 70 percent listening and 30 percent talking. Avoid business questions so you don't come across as "salesy." Instead, get the conversation rolling by asking people about themselves. It can be as simple as "Where are you from?"
5.     Discover the lowest common denominator. Although everyone has different life experiences, we can all connect on some basic human level. Ask questions that uncover commonalities. This could be family, work, mutual stories, or any interest they might share. Doing this will forge connections quickly and make you more memorable.
6.     Smile, but not too much. Nonverbal communication makes up 55 percent of face-to-face interaction, so be conscious of your body language every time you walk into a room. Think of something that makes you want to laugh, and you'll draw people in with your infectious smile. Be genuine about it, though. If you throw on a fake smile every time you meet someone, you're going to end up looking like a clown.
7.     Don't sell. If your sole objective is to sell something, people will sense that immediately. I do business with people I like and trust — not those who have an obvious self-serving agenda. Unless someone asks, never open a conversation with a sales pitch; most connections come full circle eventually. You'll know when the moment is right, but asking too soon can alienate a new contact.
8.     Keep in touch. This is one of my secrets to success. Once you've built a large network of people, it can be hard to retain those connections and stay authentic. We all have those random moments when we think of someone we've previously met. Instead of brushing those thoughts off, pick up the phone to say hello. Reaching out occasionally goes a long way in shaping lasting connections.
9.     Pay it forward. I can't stress enough how important it is to help those within your network. We all encounter opportunities that could benefit someone else, so even if it's just connecting two individuals, do it! It'll show people you have their best interests at heart and compel them to return the favor.
Karma is a funny thing. Everything — the good and the bad — always seems to come back around. Entrepreneur Brad Feld even recommends making "karma breaks" a daily, weekly, or monthly practice. When you pay it forward, you start a positive cycle that will help others succeed.
Some of these tips might seem simple, but when practiced regularly, they're incredibly impactful. Never walk into a room with the objective of meeting a certain type of person or coming away with a certain number of leads. Make an effort to genuinely get to know others and share in their experiences. Believe me, once you get the courage to just jump, you and your business will experience the benefits.
This article, written by entrepreneur Blake Menefee was originally published in WeWork Magazine here.