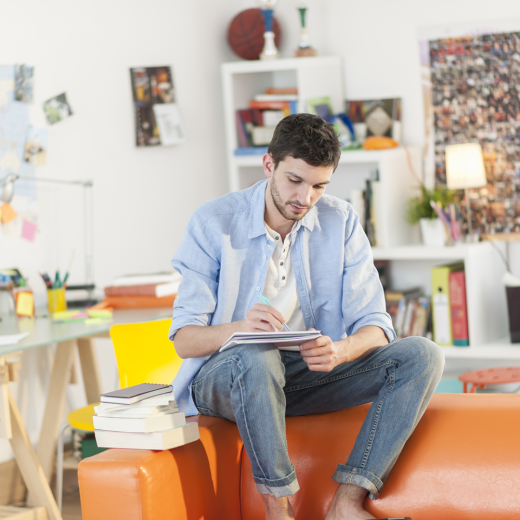 If you follow me on Twitter or Facebook, you may have noticed a pattern in my updates. Every day, at approximately 11 a.m. EST, I share a small tidbit of career advice with my followers. These can range from building your professional network to preparing for your annual review.
Below are some of the most popular career tips I've shared over the past few months.
Set your day up for success. Tackle the most important projects in the morning when your willpower is still high.
Here's a great tip to help you work smarter. I originally came across this suggestion in an article by Fast Company.  The idea is pretty simple: Instead of putting off that important – or possibly least desirable – task until later in the day, start your morning off by doing it first. This small act will set the right tone for your day and improve your overall productivity. For more productivity tips, check out Brian Tracy's book, "Eat That Frog!"
The quickest way to lose your competitive edge in the marketplace is to become complacent — never stop learning!
Don't let yourself become so comfortable that you stop challenging yourself in and out of the workplace. Seek out new professional-development opportunities at relevant industry events, your local college and online. I recommend checking out Coursera and EdX for free, online courses from the world's best universities. In addition, get involved with professional associations and networking groups in your area to sharpen your skills and stay current with your industry's trends.
Brainstorm your career goals for this quarter and break them down into smaller milestones for each month.
What we desired at the beginning of our careers may no longer hold true a decade or more later. As our lives change, so do our career plans. Propel your career forward by reevaluating your goals each year. Break those goals down into smaller, more manageable tasks you can focus on each quarter and month. Unsure what you want to do next? Give these job-goal exercises a try.
Don't let your sinking company take you down with them; know when it's time to walk away.
Quitting is never easy. There will always be high and low points in your job, but how do you know when the bad aspects outweigh the good? If the position is damaging your health or you're losing faith in management's ability to keep this company afloat, now's the time to find a new job. Click on the following link to learn about more signs that it's time to leave.
Never underestimate the power of list making. It's a great way to organize and prioritize a hectic workload.
When properly utilized, your lists can help you become more productive, less stressed and incredibly successful. In fact, just by writing down your goals for the day, you're more likely to follow through with them. Whether it's a notebook, an app like Evernote or the back of an envelope, take a moment to make a list and prioritize your tasks for the day.  Need more help? Check out Paula Rizzo's book, "Listful Thinking."
Focus on behaviors observed, not the person, when providing specific feedback to an employee.
Constructive feedback, when delivered properly, is one of the greatest gifts you can provide to your employees. You're not doing anyone any favors by providing vague feedback. Instead, describe a specific example of the behavior you observed, and explain the effects it has had on you or others. Then, provide clear suggestions as to how your colleague could do things differently.
If you want to be successful, look the part. Dress appropriately, look your boss in the eye and give a solid handshake.
You've likely heard the old adage to dress for the part you want, not the one you have. Whether you're trying to impress a prospective employer during an interview or sitting down with your manager to discuss a promotion, it's important to pay attention to your entire brand – from your outfit and body language to your elevator pitch. Need more help? Click on the following link to learn more about looking the part.
Is it hard to find a silver lining in your thankless job? Consider it an opportunity to clarify your job goals.
It's true – some jobs seem more like a curse than a blessing. If you're having trouble finding the silver lining in your work these days, look a little closer. Whether your job is plagued by boring tasks, low pay, long hours or a tyrant of a boss, there is always a reason to be thankful for your role. Use this opportunity to reexamine your long-term goals and develop your job-search strategy.
Constructive feedback is a gift. If you truly want to advance, seek it out and be open to what you hear.
Delivering constructive feedback to a colleague can be challenging. However, receiving feedback about your performance can be equally difficult. If you want to propel your career forward, it's important to seek out feedback with an open mind. Check out the following article by Harvest Business Review for tips on asking for feedback that will help your career.
This post was originally published on TheLadders.com here. Check out more tips from Amanda here.