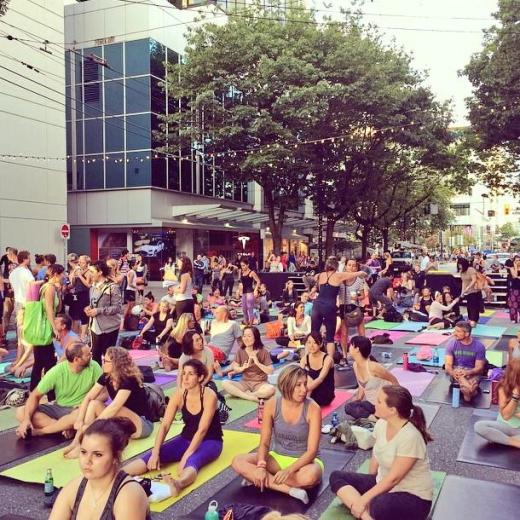 Even if you've never stepped inside of one of their stores or bought a pair of their yoga pants, the name lululemon likely makes you feel a certain way. You might not know what their latest product or line is, but you know the type of person who shops there. The retailer forgoes following fashion cycles or trends, choosing to embody a lifestyle above all else. Like Live in the Grey, it rests on an aspirational philosophy that evokes the ideal life. And it's not just their customers who believe in the mantra found on their ubiquitous red bags. Employees live and breathe it. Which makes for a rare occurrence in the retail store landscape: people are proud to work there.
Why not now? #givepresence pic.twitter.com/FZkyBan7hR

— lululemon athletica (@lululemon) November 27, 2014
To better understand what it's like to work for lululemon, I've talked to employees from across their New York City stores. Our conversations make one thing clear: lululemon knows how to find their people. Employees believe in their stores just as much as their stores believe in them. Here, in their words, is what makes lululemon company culture so unique:
1. They attract the right people
There's a long list of characteristics that everyone we talk to shares. Almost all of them tell me they were customers at lululemon before working for the company. They tend to be incredibly active; the group includes a former competitive gymnast, dancers, runners and many avid yogis. They are in tune with their health—both physical and mental. They are energetic and social. They feel like they could all be in the same friend group. It might seem obvious for a store to hire people who would actually wear their clothes and would therefore advocate for their brand. But there aren't that many retailers with such strong customer affiliation and such a clear point of view. This, combined with their stronghold in the health and fitness community, helps draw out those who self-identify with the lululemon lifestyle: in short, the perfect employees.

Store educator Ashley Z & local ambassador Will Lanier at Brick Crossfit
2. They encourage employees to be involved in the local community
Perhaps the most obvious "perk" lululemon offers employees is the opportunity to attend local fitness classes — spinning, CrossFit, yoga, you name it — on the company's dime. Not only is it great to have healthy behavior paid for; it also allows employees to "create authentic relationships" with potential customers, as key leader Alexa Savitz explained. By working out with the local fitness community, employees can spread the word about lululemon much more organically. "It's not required," Emma Dinzebach of the Union Square location told me, "but you want to be in the community. That's why you are there." As employees build relationships with leaders in the fitness community, they can also connect with and recruit "ambassadors." These chosen liaisons receive special discounts in exchange for representing the brand in the community. So, instead of feeling like their job is to push sales onto unsuspecting customers, lululemon employees are encouraged to form relationships and activate brand advocates. Sounds much more engaging, doesn't it?
Today we're celebrating this guy on our L&D team crushin his goals #joblove #lululemon pic.twitter.com/GomsQjnHn1 — lululemonpeople (@lululemonpeople) December 26, 2014
3. They invest in the growth of their employees
From the outset, lululemon encourages employee growth. Many stores have resource libraries filled with professional development books that are lent out to new employees. Goal-setting is another must. All employees are asked to share short- and long-term goals relating to their careers, but also to their health and personal growth. Right off the bat, co-workers learn more about each other than months of small talk might provide. Stores even display employee goals so team members can keep each other on track. "Your co-workers are invested in your goals, and they keep you accountable!" explains marketing community connector Julie Anderson. Supportive managers clearly play a huge role in bringing to life this environment. Mikaila Roberts, key leader and community lead at the SoHo store, describes her responsibility as a manager: "We're here to help find people's natural strengths and passions, and clear out habits that are in their way." Even employees' role names reflect a different approach and higher expectations. Instead of sales associates, lululemon has "educators" who study the benefits of products and teach customers about them. Instead of managers, lululemon has leaders. In fact, at least a third of any given store might consist of leaders. "Everyone has the capacity to be a leader," Mikaila explains to me. "To see the change you want, you have to rise to the occasion."
4. Their employees believe in the company mission
I lost count of the number of times someone told me their job involves "elevating the world from mediocrity to greatness." It's a core lululemon mantra that redefines the retail experience. As such, I've learned that the roles of lululemon employees include things like: making someone's day better; suggesting a new workout routine; motivating someone to achieve their goals; and offering a supportive environment where "you don't have to pretend with me." This lofty vision of the importance of retail experiences motivates employees to give themselves more fully to their work. After all, they're a part of something that matters. It's especially clear through these interactions that the company's internal culture translates into positive customer experiences and a better bottom line.
#meditation at work #youshouldtryit RT @lululemonnyc: Closing out #lifeinluon with a brief meditation #joblove pic.twitter.com/iaRfku1pd2

— lululemonpeople (@lululemonpeople) September 29, 2014
A meditation class takes place inside a lululemon NYC store
5. They give individual stores autonomy
One of the most common job complaints is feeling micromanaged, but it's not one you'll ever hear from lululemon employees. Stores are given "the power to make business, creative and even educational decisions," Julie tells me. That means things like defining how new employees are trained or creating programming for the local community. It's not that stores receive no direction at all. They're given content, information, and even specific goals. "But you can achieve it however you want," explains Mikaila.
By turning employees into co-creators of the brand, lululemon pushes them to deliver and invest more in the space they work in. Employees, in turn, feel empowered and like their opinions matter.
6. They encourage honesty and vulnerability
One of the most unique characteristics of lululemon's culture is the value placed on honesty and vulnerability. In practice, this manifests itself in the feedback team members give to help each other improve. "There's an expectation that you share feedback from a place of kindness, but you're direct," regional community leader Heather Colvin shares. When you see someone else interacting with a customer, for example, but not "being there for them," you'll let them know afterward.
Failure isn't necessarily frowned down upon, either, and managers like Mikaila like to give their teams permission to fail. "As a leader, I admit that I make mistakes. I share my vulnerability," she explains.
In this environment, forming close bonds is natural. It's no surprise when I hear something like, "I'm a completely different person for having worked for lululemon – and everyone I work with feels the same."
This is part of our series on companies with exemplary company culture. Read more here. Feature image via @lululemonpeople.