In this guest post, Kari Jones from Birchbox talks about how they inspire and delight Birchbox employees through a regular speaker series. 
I was relatively new to Birchbox when a member of the People & Culture team approached me to help tackle the idea to have speakers come to Birchbox. It was a one sentence ask without any guidelines, goals or structure. The spark was ignited in my head and the Birchbox Speaker Series was born.
I have always been a big believer in empowerment through example. I wanted to provide an experience for our team to learn life lessons from a wide variety of industry leaders. In my opinion, if one person is inspired the series is worth it. Birchbox is a thriving culture comprised of young, intelligent, driven individuals. Everyone significantly contributes to the company's growth so I felt it was crucial to set a high standard with our speakers and the series. Our team strives to reach beyond the normal limitations and our speakers need to do the same.
How we made it happen
The first thing I did was create a mental "hit list". The culture at Birchbox is  unique and would require a certain type of speaker. I was very thoughtful when creating the first list. I wanted entrepreneurs, top executives, game changers and founders who could inspire us with their talents and resonate through a dynamic personality.
I flipped through my personal contacts and reached out to team members who may have connections. I drafted an email which included why I found them inspiring, a basic format of the series and the ask. You have a very limited window to grab the reader's attention and the ask needs to be very clear.
I thought six people would be a good goal for the first series to cover half the year. Our first speaker series included: Jonah Berger; Eric Schmidt; Neil Blumenthal; Ido Leffler; Lauren Bush and Michael Preysman.
The commitment from the speaker is 1 hour which includes a meet and greet with our Founders, a presentation and team Q&A.
Year 2: On a Roll
This year, I have noticed speakers are jumping at the opportunity to participate in the Birchbox Speaker Series. I am working with the head of our Beauty Partnerships team to build out the series to include more of our Brand Founders. I thought this would be a great way to mutually celebrate and strengthen our relationships. The team is able to get a deeper understanding of the brand and products directly from the Founder, who in turn sees just how passionate the Birchbox staff is at what we do! We are averaging 2 speakers per month, double the participation from last year!
Some of our speakers this year include: Justin Klosky; Daphne Oz; Gary Vaynerchuk; W3ll People; Bertand Thomas; Frederic Fekkai, Kate White and Bruce Flohr (Red Light Management) who brought the band O.A.R to perform a live acoustic set in our office!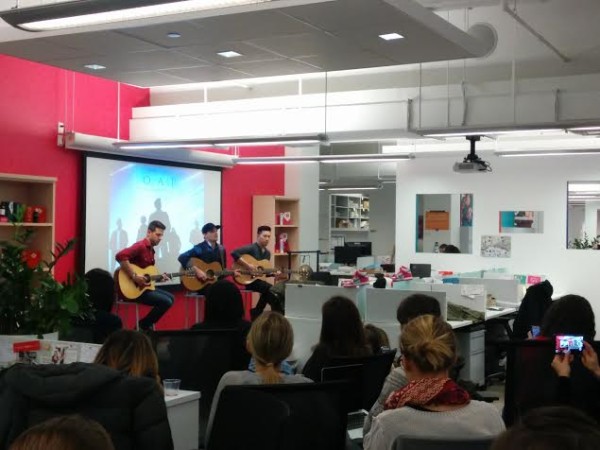 I am very proud of the Birchbox Speaker Series. We've received such great feedback from our team and the speakers as well as these benefits:
More excitement on our social channels by both employees and followers
Our recruiters mention the speaker series at recruiting events to highlight our culture
When you sit back and think about it, the opportunity to have such a direct line to influential individuals is a unique perk!
The Birchbox Speaker Series has also proven to have a direct impact on Birchbox and our business. The series has helped solidify new partnerships, build upon existing enthusiasm from brand partners and establish valuable high level connections.
Want to start your own speaker series?
My greatest advice if you are thinking of building a speaker series into your company is to aim high, but also be strategic and true to your audience. You want the team and speaker to be equally invested in the process.
Don't be afraid to reach out to your dream speaker. The worst thing they can say is no. I went as far as getting a ticket to a taping of The Daily Show and not only handing an invitation to Jon Stewart's security, but tweeting him and the show to let him know it was there waiting for him. He is a dream speaker who is still on the list. If you read this Jon, we would love to have you!
What's next for us
The Birchbox Speaker Series is a passion project and still a work in progress. I want to continue to grow the series by incorporating more interaction through social media, promotions, raffles, demonstrations and product testings. We have built an office library with books our speakers have written and a photo archive. I am lucky to have the creative freedom to continue to test the format. Sky is the limit!
For more photos from the Birchbox Speaker Series checkout the hashtag #birchboxspeakerseries on Instagram!