January 28, 2014
Day 7 of the Risk Makes Life Remarkable Challenge!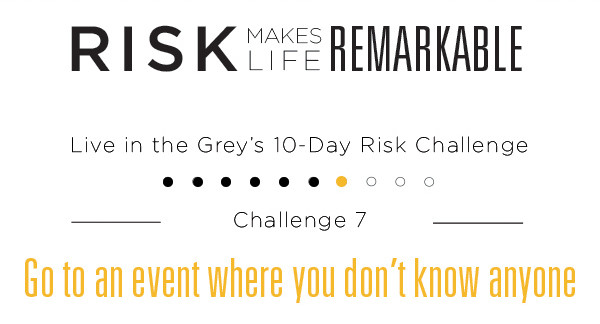 It's Day 7!
Today's challenge is to head out to an event where you don't know anyone. Whether it's a concert, a book signing or professional event do it alone. The goal of this challenge is to put yourself out there! Be open and make experiences.
Here are a few resources to make this challenge easier:
1. If you need a little help trying to find something to do, consult Flavorpill - it's a great resource for goings-on in LA, NYC and SF.
2. Wondering what to say to new people you meet?
Our very smart (and very silly) friend Marie Forleo thinks of networking as, "an ongoing organic process of building relationships with people you actually like." We think thats a great reframe of the oft-dreaded, but crucial, activity.
Watch this video to learn Marie's 8 great tips for networking:
1. Focus on giving versus getting. Make a book recommendation or an introduction.
2. Be present. Don't look around trying to spot your next conversation.
3. Listen more than you talk. "We have two ears and one mouth so we can listen twice as much as we speak." -Epictetus
4. Think long term versus short term. Don't rush or push your agenda on anyone.
5. Do not over commit or feel guilty.
6. Be honest.
7. Take action immediately. If you do make a commitment to someone you meet, make sure you follow through.
8. Only go to things that excite you!