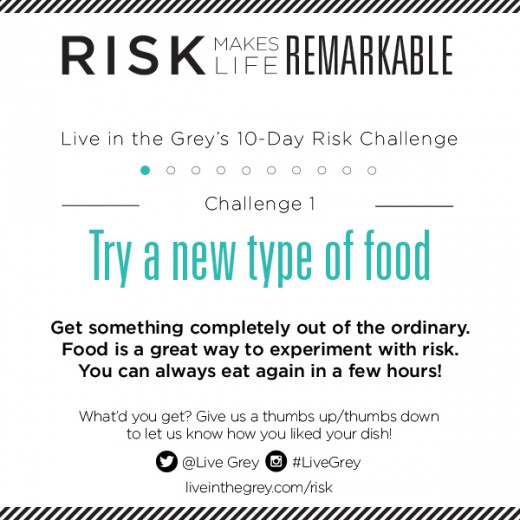 Taking a risk means venturing out of your comfort zone into less familiar territory. It can be scary. The goal of this 10-day challenge is to practice feeling that fear of the unknown so much that you become comfortable with it. Because the more comfortable you are with uncertainty, the less likely it is to stop you from taking action towards making your career dreams a reality.
This week, we're starting simple. We'll make small tweaks to our regular routines that will help us begin to perceive risk-taking as an opportunity, rather than something to fear.
Today's challenge: Try a new type of food!
How It Works:
- Every morning we'll post the day's challenge on our Facebook, Twitter, Instagram and Pinterest accounts.
- Once you've completed the daily challenge, you'll post your results via social media using the hashtag #LiveGrey. (Doing so will also enter you to win a free career coaching session with Caroline Zwick!)
- Follow along and support your fellow LITG risk-takers by checking @LiveGrey on Twitter and Instagram!
Join the risk challenge here!