May 21, 2013
Our Favorite 'Grey' Graduation Speeches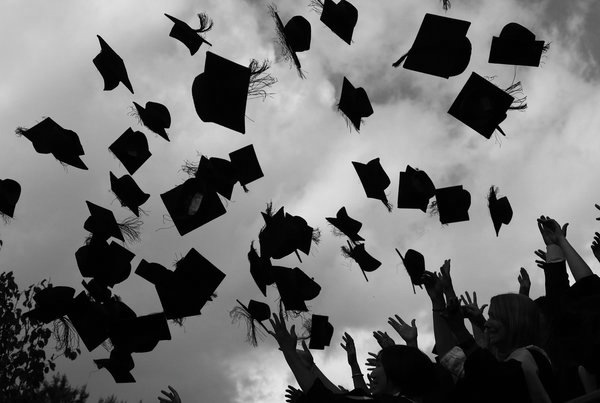 It's that time of year! We've picked a few of our favorite commencement speeches that have inspired and motivated us lately. And we'd like the pass along the positive vibes to you!
If you have a favorite commencement address, share it with us here.
David Foster Wallace, Kenyon College 2005
David Foster Wallace's 2005 address to Kenyon College grads has recently been making the rounds on the internet because The Glossary created an awesome video using an abridged version of the speech.
David opens his address with a strong dose of reality: "The plain fact is that you graduating seniors don't have any clue what 'day in, day out' really means. There happen to be whole, large parts of adult American life that nobody talks about in commencement speeches. One such part involves boredom, routine and heady frustration." See it below.
 
"You get to consciously decide what has meaning and what doesn't."
David offers the banality of work life to encourage graduates to think past the natural default settings in our minds,"If I don't make a conscious decision about how to think and what to pay attention to, I'm going to be pissed and miserable."
Although he admits it is hard and "it takes will and effort" he continues to say, "if you learn how to think, how to pay attention, then you'll know you have other options."
We love this idea because it speaks directly to seeing past the "natural default setting" of living a black-and-white life, to eventually arriving at the option of living in the grey.
Maria Shriver, USC Annenberg School of Communication, 2012
This speech comes courtesy of our Twitter friend, Chris Aguilar Garcia. Thanks Chris! Here, Maria talks about "the power of the pause." She encourages graduates to have the courage to slow down, take a breath and be in the moment. 


"Before you press the fast forward button, press the pause button." -Maria Shriver
We love how Maria relates her advice to career, "pause and reflect before you sign on with someone or some organization whose work you do not admire, and you don't respect and you cannot stand up for. Who you work for is as important as what you do."
Find the balance between passion and patience.
Conan O'Brien, Dartmouth College 2011
This speech is funny. You could have guessed that much. Towards the end, Conan (who endured the Tonight Show fiasco just two years prior) shares that even though disappointment stings, good can come out of it: "Ultimately I abandoned all preconceived perceptions of my career path and stature…did a lot of silly, unconventional, spontaneous and seemingly irrational things. And guess what? It was the most satisfying and fascinating year of my professional life."

"There are few things more liberating in this life than having your worst fear realized."
We love how Conan turns the idea of failure on its head and says, "It is our failure to become our perceived ideal that ultimately defines us and makes us unique. It's not easy, but if you accept your misfortune, and handle it right, your perceived failure can become a catalyst for profound reinvention."
Be open. Change happens when it's invited.
CONGRATULATIONS To The Class of 2013!
If you have a favorite commencement address, share it with us here.