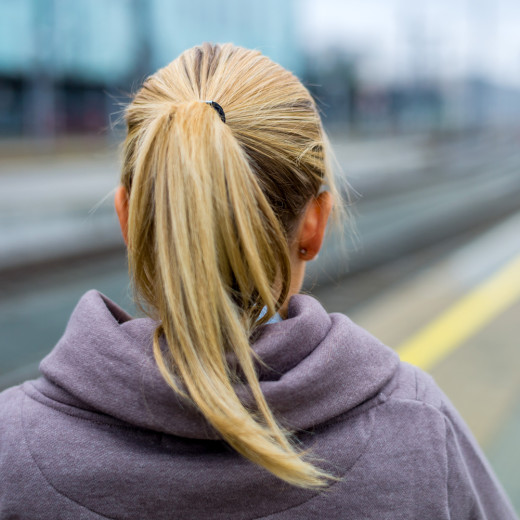 "To possess all the world of knowledge and lose one's own self is as awful a fate in education as in religion." - John Dewey, The Child and the Curriculum (1902)
I love teaching the work of philosopher John Dewey, not only because my students thrill at the idea that an excellent education should both acknowledge individuality and cultivate intellectual curiosity, but also because Dewey articulates a theory that encapsulates my own worldview as a scholar, teacher, writer, and activist. Our identities shape how we produce and consume knowledge; acknowledging and embracing these connections make our scholarly and activist contributions more powerful, original and enrich our inner lives.
Growing Through Knowledge
The acquisition of knowledge has always been core to my sense of self, and in a way I was born an educator. A life of the mind was clearly my calling, and I pursued that path voraciously and completely. Early on, I embraced my identity as a "smart girl," separating the mind and the body much like the ideas of French philosopher René Descartes, although I didn't know it yet. I considered myself lucky to be able to find tremendous fulfillment in cerebral pursuits, which I, like Descartes, considered more elevated.
Intrepid as I was in the classroom, I felt completely intimidated in the physical realm. As a teenager, fed up with the regular humiliation of my lackluster performance in physical education class, I opted instead for an "independent study." It secured me an extra period for schoolwork and an escape from my classmates who daily witnessed my physical ineptitude.
Growing Through Movement
At sixteen years old, I signed up for Step Aerobics at the local Jewish Community Center, and alongside spandex-swathed women twice my age, struggled to keep up with the syncopated music and strangely named steps. Despite my initial lack of rhythm and interest, I had no choice but to stick with it or return to P.E.
Within a few weeks, I couldn't believe how much I craved the exhilaration that came from stacking my risers higher and higher and mastering routines that had seemed unfathomably complex just sixty minutes earlier. Never before had I enjoyed physical activity — I had dreaded it — nor had I considered my body anything more than a reasonably healthy bag of bones and flesh encasing my far more valuable mind. I passed P.E., and for the first time ever became aware of the potential of exercise to transform my muscles and my mood.
A few years later, delving into dissertation writing, I sought diversion from the enormity of this task at the gym. I found a mind-body class called intenSati that provided the same kind of purgative sweat that had sustained me for a decade, but which eschewed the rhetoric of body hatred for declarations of discipline, enthusiasm, and self-acceptance. The dissertation was actually getting done, and I was less affected by the anxiety that has become synonymous with graduate school and job-searching. By 2007, I was a certified intenSati leader, bracketing my days of writing with teaching packed pre-dawn or evening classes around New York City.
Growing Through Teaching
Leading group fitness felt surprisingly similar to academic teaching, which I had always loved. I found myself especially energized by applying tactics I'd honed in the classroom to the studio: engaging students not only with me but with each other, including students with wide-ranging ability levels, and adapting class content to different learning styles. The commanding presence I practiced leading intenSati came through in my teaching and presentation as well. As my college students gained new energy, for the first time I was acknowledged specifically for "delivery" at academic conferences.
It took me a long time to understand how teaching wellness squared with my academic life. When I was hired as an assistant professor and friends and family assumed it was time to abandon my grad-school hobby, I politely reminded them that my intellectual successes were intertwined with what had become a robust physical life. On some level, I was a Cartesian no more. Similarly, when well-intentioned gym-goers would approach me after class and declare that I should quit my day job (what do you do again anyway?) to teach fitness full-time, I'd respond with similar conviction that I loved academic life and had no intention of leaving it.
Finding the Balance in Your Life and Yourself
As fiercely as I guarded this boundary, such compartmentalization was untenable. A life-size poster of me hung in the local Lululemon Athletica store just blocks from campus and fellow faculty and students attended the gym where I taught. This separation of the physical and the intellectual was also completely out of step with the ideas I imparted in the seminar room and the fitness studio. How could I enthusiastically teach Dewey's, Jung's, and Locke's conceptions of a united self, and at the gym, urge students to "step into their greatness" and carve their own paths, if I did not do so myself? At first tentatively, and then zealously, I heeded Dewey's advice that "the educational process is one of continual reorganizing, reconstructing, transforming," and began bringing these worlds together.
Today, my scholarship, teaching, and wellness activism all bear the influence of my blended identity. I continue to assign Descartes in my courses about the history of self-help and wellness culture, but the philosophies that drive me are Dewey's, as much for his emphasis on fueling a passion for learning as for his celebration of the interconnectedness of the whole self.
At least in my experience, only when we embrace the fact that knowledge and selfhood are intimately intertwined can we both maximize our own fulfillment and our ability to make a unique contribution to the world.
A longer version of this essay originally appeared at www.nataliapetrzela.com.