March 15, 2013
LIVING in the Grey: Steve and June Shelp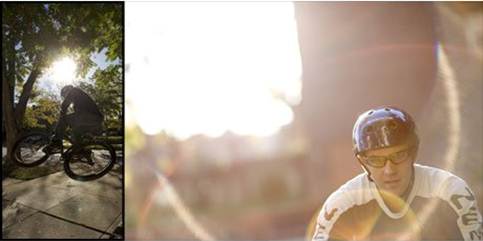 We launched Live in the Grey a little over two months ago. As we continue to grow and spread our message with the world, we're starting to gain a deeper understanding of the impact our philosophy is making in the lives of real people. In response to all of your overwhelmingly positive feedback, we are starting a new original series profiling those embarking on their own journey of actively LIVING in the Grey.
For this first installment, we bring you Steve and June Shelp of Lafayette, Colorado.
My name is June Shelp and my husband, Steve, and I are currently in the process of opening a bike shop in our community and have been extremely moved by Live in the Grey. In fact, the name of the shop was inspired by the philosophy you have laid out – Fusion Bicycle Company, blending work and passion.
Until recently, Steve and I were unable to articulate our perspectives on work and life but your website has given us the ability to communicate more effectively to our friends, family, and community. Our mantra for the shop is:
"To give real service you must add something which cannot be bought or measured with money, and that is sincerity and integrity." - Douglas Adams
Living in Boulder and the Front Range has provided the environment needed for us to flourish within a cycling lifestyle and we are extremely thankful for that. Our goal with the new shop is to be open and inclusive to anyone that rides a bike, whether it is recreational or a mode of transportation. Old Town Lafayette is an emerging, eclectic, and artistic community and we aim to provide the residents and visitors with best in class service, without the attitude. We are also planning to display local bicycle art on the walls in the shop to promote the local artists movement in the area.
Thanks to Live in the Grey, Steve and I have developed the capacity to be comfortable with risk, knowing that each day we will positively impact the community we hold so close to our hearts. Our only hope is that we inspire others to challenge conventional wisdom and step outside of the box that society has created for us.
Thank you so much for the inspiration and the nudge we needed! - Steve and June Shelp
We found this note so inspiring that we decided to dig a bit deeper and ask Steve a few questions on how he actively lives in the grey.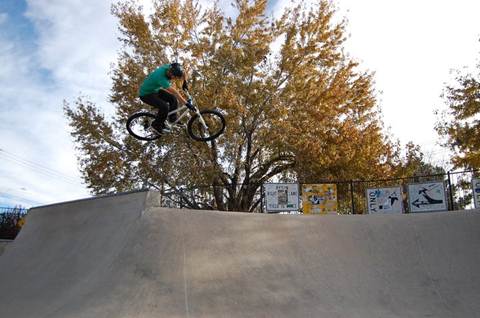 Steve Shelp takes the leap.
1. How do you live in the grey? I live in the grey by using my hands. My hands are an extension of me. My hands fix bicycles. Solving a broken down bike is rewarding and feels good. Feeling good in work puts me in the grey area and attracts more positive situations.
2. Why is it important to you to live in the grey? I simply focus on doing what I love, and I keep doing it. This is what makes me happy. It's very important to keep heading in this direction. It is the Law of Attraction: happy people attract more happy people.
3. What aspect of the Live in the Grey philosophy resonates with you the most? Learn from others (everyone's a teacher). Teach others (we're all students). After teaching June how to ski, I learned more about body awareness and became a better skier.
4. Describe the last time your instinct was to run, but you toughed it out and stayed the course. Answering these six questions.
5. How do you define success? Success is measured by how much passion goes into your work. I'm grateful to have developed a strong desire to work with people and their bicycles.
6. Who are three people you would love to collaborate with?
- Jiro Ono, 85 year old sushi master form Jiro Dreams of Sushi
- Jean-Michel Basquiat, American artist
- Bob Marley, Needs no description
Are YOU living in the grey? Tell us your story here for a chance to be featured on the site!