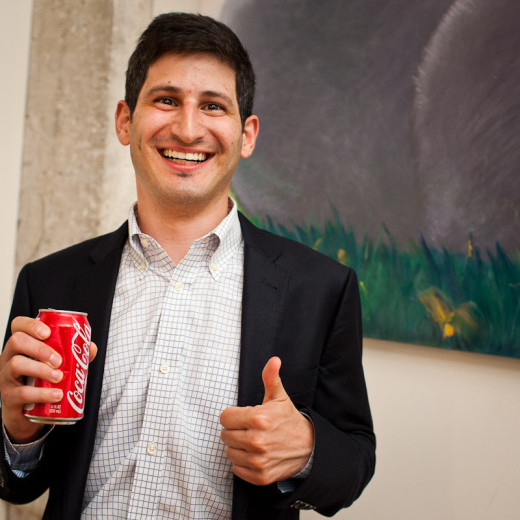 This post, by Hadi Irvani originally appeared in WeWork Magazine.
Growing up in the South with a German mother and a Persian father, I think all of my childhood memories revolved around food. I have a pretty large family, so many of our gatherings happened around the dinner table, eating meals that were as culturally diverse as they were frequent. I carry those traditions with me when I'm hosting dinner parties, cooking bizarre foods, and eating all of it with new friends.
Go with your gut (literally)
I knew I wanted to work with food in some way, but I wasn't quite sure how. I took a cooking class abroad after high school, but I decided restaurant life wasn't for me. Cooking was such a social event for me growing up, and I didn't like being disconnected from the people I was preparing meals for in cooking school. I wasn't sure where to go with my gut yet, so I put my culinary interest on the professional backburner for a while. But I knew I'd be back.
Don't just step outside of your comfort zone; stand there for a while
In college, I was studying economics at University of Virginia (and hosting a lot of dinner parties). I was also very drawn to e-commerce and technology. This kept me on the computer for hours, and I found myself avoiding work experiences that would require a lot face-to-face sales or talking on the telephone. To cut the habit, I forced myself to take a couple of positions doing phone sales and customer service. Breaking myself of simple fears like talking on the phone allowed me to focus on bigger ones at hand that I would face when starting my own company.
Know when and how to blend
After holding a couple of sales positions, I moved back to Atlanta to be the head of e-commerce at my family's shoe company Okabashi. I'm so grateful for that time because I was able to get that in-the-trenches e-commerce experience I needed at an established company before going out on my own. After two years there, I knew it was the right time to leave and start PeachDish. Until then, I haven't seen a sure-fire way to combine e-commerce with fresh food. With the growing popularity of meal kit delivery services in New York, I knew that it was time to dive in and start it in the South.
I took what I knew about e-commerce and Amazon Web Services and used it as a foundation to turn my love of dinner parties into a deliverable product. It's important to find that balance of doing things that you love and scaring yourself a bit. Out of a couple of very scattered interests and some really great timing, PeachDish was inevitably born.
Hadi Irvani is the founder of PeachDish, an Atlanta-based startup that helps busy people reconnect to their kitchens. PeachDish mails members all of the fresh, pre-portioned ingredients and instructions needed to cook multi-course meals at home every week.