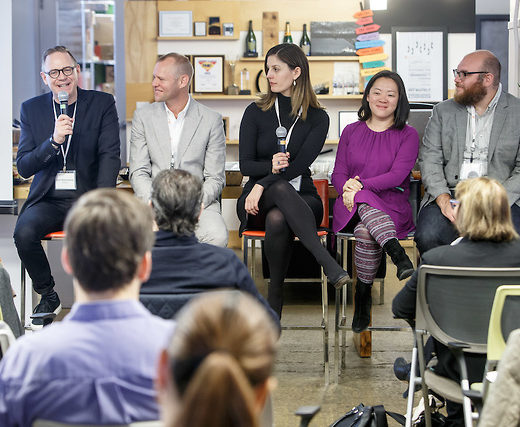 In the past decade, the tech sector has become a driving force for company culture. Despite-or perhaps because of-their results-driven mentality, many tech companies have become well-known for deliberately invested in workplaces that attract incredible talent. At a recent Internet Week panel hosted by LivePerson, industry leaders from the tech sector (including our own CEO Brad Lande) shared why culture has been so critical to their success. Check out some of their lessons learned and advice below:
Your culture is your mission come to life.
Your culture is your mission come to life, which means you need to define what your company stands for first. Then, work to insert that mission and culture into everything you do. — Global Head People at LivePerson, Kristy Sundjaja
Culture also means boundaries.
When you are cultivating culture at a quickly growing company, you should first have a dialogue about the mission and the vision. Everyone you hire must be passionate about it. But you should also set boundaries at this time, otherwise you'll end up with a hyperbolic culture that can easily crash and burn. — Zady.com Co-Founder Soraya Darabi
There are two types of culture.
There are two types of culture at play in organizations — the cognitive culture and the emotional culture. While the cognitive culture covers how you are invited to think about and talk about things in the organization, the emotional culture covers those things that aren't spoken, like the way you treat each other. It is often invisible, so it's crucial to name the type of emotional culture you want and create practices that make the invisible visible. —Live in the Grey CEO Brad Lande
Culture is a long-term project.
Truly solid culture can take years to form. You have to be persistent and attentive to it every day, because it is systematic and integrated. You have to bring a degree of intentionality to all of your touch points with employees. You will get a culture no matter what, but is it the kind of culture you want? If you don't address the systemic culture and instead focus on culture confetti (like a latte machine) it won't work. Those things can be meaningful,but only when you start at the foundation. — Chief People Officer of WeWork John Reid Dodick
Job-seekers: learning about your potential employer's culture.
Reach out to people in your network who are in the extended community of a potential employer. Culture manifests itself beyond the four walls, including externally with clients, customers, partners, etc. Ask them about the company's culture, how they treat people and how they communicate. — Global Head People at LivePerson, Kristy Sundjaja
Tech companies can have culture advantages…
Working at a founder-led company like many in tech can be helpful because founders are intricately connected to the culture and they understand the importance of it. You should leverage that.
… but they still have more to learn
On the other side, tech companies have been known establish questionable culture practices. Don't use bullshit terms like "graduated" instead of fired — people will know. Make your policies in plain language. Tell stories. That's what truly communicates your culture. — Chief People Officer of WeWork John Reid Dodick
"Legacy employees" have valuable culture knowledge, too.
In many tech companies that grew quickly, there are often legacy employees who have to grow and evolve with the company as the culture evolves. Allow those employees to play a role and share their historical knowledge-they are huge assets. At the same time, have a transparent conversation about the direction the company is going, and when you need to part ways, part ways. If it's not a good match, there are no hard feelings. — Global Head People at LivePerson, Kristy Sundjaja
We still have people who know their "employee number." They have learned so much on the job and while growing the company, but still have a lot to learn from others and through formal learning. Empower your legacy employees to continue to learn from new hires and formal learning so they grow with the company. As a leader, you should embrace legacy employees and what they have to teach you about the core of your company. — Chief People Officer of WeWork John Reid Dodick
Go beyond the challenges of diversity in the workplace
I recently heard Obama say America needs to break away from its traditional tribe mentality. For companies, I think it's okay to cluster and have your tribes, but you should also be able to dialogue and connect across groups. Help your people tell stories that connect them to each other, across tribe lines. For example, select a few employees every year to tell their story to the whole company. Their real story. That helps bridge some of the challenges of diversity. — Zady.com Co-Founder Soraya Darabi
Things like values and purpose often unite us across all kinds of diversity lines. Organizations should help their people figure out and share these things with each other, so they are speaking a common language. That actually enables them to get beyond misunderstanding and understand where everyone is coming from. — Live in the Grey CEO Brad Lande