April 25, 2013
Recap: Our April LITG Salon Dinner!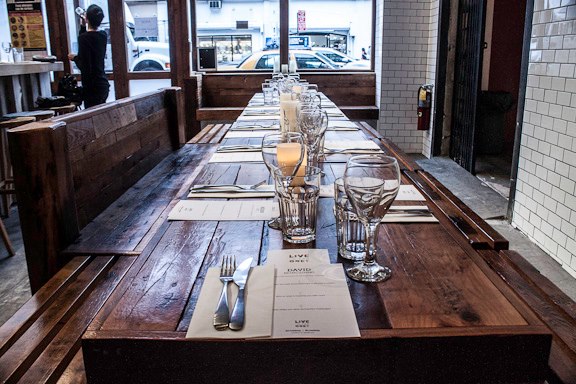 We continue our salon series this month with a dinner which brought together an inspiring group of creatives as well as business owners this week in New York City. With each salon our goal is to engage individuals actively pursuing a life in the grey, in conversation to understand how they arrived at their current juncture and how our philosophy translates into their own lives.
We assembled at ABODE (a very cool, very delicious pop-up restaurant in the Lower East Side) and kicked-off the evening by going around the table and asking each guest one of our favorite questions,  "Which part of the philosophy resonates with you most?"
Here's what our guests had to say:
Love what you do. Live what you love.
Internationally acclaimed visual artist Shantell Martin asks herself everyday "who are you, where are you going?" to make sure she is always living what she loves.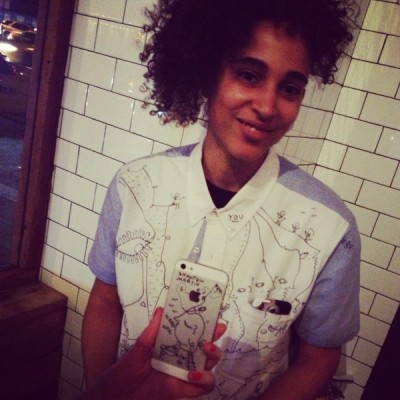 At the end of the evening, Shantell Martin drew an illustration on Laney Crowell's phone.
Nurture your obsessions + name your aspirations. Share them with others.
"I realized how powerful it can be when you accept what you are obsessed with…" Kathryn Minshew, co-founder of The Daily Muse.
Nothing is more important than your relationships.
Megan Salt, Director of Communications at Vogue and Lauren Wirtzer-Seawood, Media and Entertainment Partnerships for Zynga both shared how important relationship building was for their career. Lauren remarked, "Relationships mean everything - when you nurture them, you can get anything done."
Make your friends your colleagues and your colleagues your friends.
"There are certain things in business you can only ask your friends." We loved this insight from Hayley Barna, who started Birchbox with two of her best friends.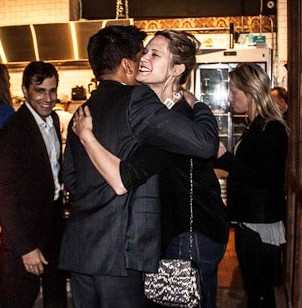 Stephanie March greets co-founder Maneesh K. Goyal while co-founder David Munczinski looks on.
Find the balance between passion and patience.
Michaelangelo L'Acqua, Global Music Director for the W Hotels, shared with us that learning patience helps him create.  Laney Crowell who was approached by Estee Lauder, where she is now Director of Online Communications, to join their team after seeing her personal blog, shared that patience with yourself is paramount to turning your passion into your full-time job.  Manoush Zamorodi, the host of New Tech City on WNYC revealed that she truly understood the meaning of find the balance between passion and patience when she became a mother, "pushing a stroller taught me to be patient and gave me time to think."
Be Curious. Ask why. A lot.
Actress and travel writer Stephanie March shared with us that being curious opened her up to trying something new in her career, "Be Curious. Curiosity is on short supply. Your whole life is still in front of you."
Be Happy.
Ashley Arenson, general manager and co-founder of Lerer Ventures incubator, Soho Tech Labs and former Director of Integration and Innovation for President Obama's 2012 campaign, told the group it all comes down to being happy.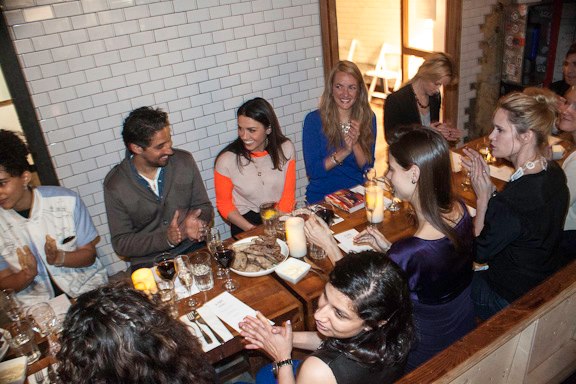 Smiles abound during dinner conversation.
Live In The Grey.
Common Bond co-founder, David Klein stated simply that the idea of living a grey life is what speaks most loudly to him.
Catch a few of the inspiring tweets from the evening to get more pieces of this amazing conversation!  Stay tuned to read more about some the themes we discussed including the value of failure and how to deal with fears.
Check out our Facebook album for more pictures!