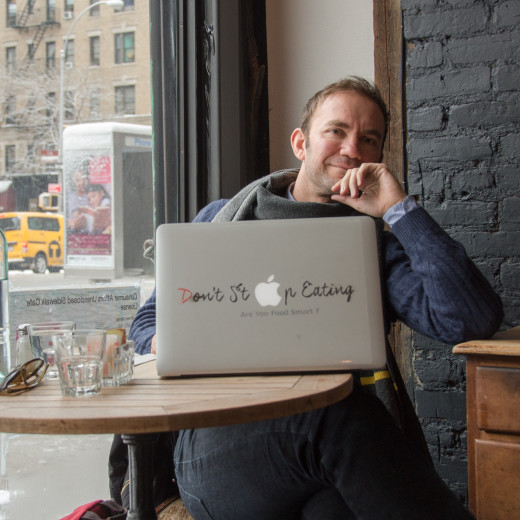 Live Grey Ambassador Mauro Clerici believes in the power of good food and the power of food to to good. Through his nutritional knowledge and his online magazine Don't Stop Eating, Mauro spreads this message and helps others build healthy, informed, and sustainable relationships with food, with each other, and with themselves. Check out his grey story below:
How did you find your grey?
I remember like it was yesterday, when my teacher handed me the college guide with a list of jobs that I could pursue after graduation. Fast forward 30-odd years later, and even though I had a successful career in the intriguing and well-paid world of digital advertising, I realized this path was not the direction I should have chosen, or the career I should have picked as soon as I finished school.
In 2008, after I moved back to NYC, I realized that two particular things were a constant in my life: friends and food. As a part of a large Italian community, both food and dining are very important parts of my lifestyle. Food is life. After all, we are what we eat. Like most of my friends, I celebrate the art of dining every day; it's just part of my culture! Once I discovered how much I wanted to explore that further, things started to unfold in front of my eyes. I quit my full time job and took a part time role, which allows me to concentrate more on my real passion. I also became a certified Integrative Nutrition Health Coach, and I am currently studying to become a Colorpuncture therapist. My biggest project at the moment, one that I am most proud of, is the founding of a health-conscious online magazine called Don't Stop Eating. Now I want to inspire other people to do the same, to live the lives they are dreaming about.
What are some specific ways you live in the grey?
I set a routine based on my goals, one that will keep me focused, feeling accomplished, and therefore always happy to do what I'm doing. Every goal has its own priority and place in my life, and I check in every day with myself to understand what I can omit or need to add in my routine. For example: I might skip exercising one day, but I will never miss nutritious meals to keep my body and brain functioning at their best.
What are three things you try to do everyday?
Eat healthy - you are what you eat. Don't ever underestimate the importance of exercise - whether it's morning yoga, going to the gym, a bike ride or a quick run, your body and mind will greatly reward you. Smile and laugh - I feel this keeps me younger and happier with the people around me as well as myself.
How do you translate your intentions into actions?
I set achievable goals. I set them on a calendar. And I share them with my associates and partners. Why? Once it's out there, the Universe will keep you accountable, but also help you achieve them. Ever heard of synchronicity?
How have you worked to become qualified enough to do what you love?
I invested the money I had made doing what I didn't love doing as much, along with my spare time, into earning certifications and buying equipment that allowed me to slowly transition over time to a field I do love. So far that has worked for me.
How have relationships played a role in your career and what advice do you have about building them?
Once you know your goals, relationships play a major role in achieving them. You will be amazed how many people will be willing to help you succeed in your mission.
What's the best piece of advice you have for someone beginning their grey journey?
Set your intention and goals. I was offered the chance to run a nutrition workshop for someone's organization only a few days after I decided on my path. Also, remember that although you want everything to happen instantly, that might not happen. Rome wasn't built in a day. The best quality you can have with regard to your passions and goals is persistence.
What principle or goal is guiding you in your life right now?
We are what we eat. Being mentally and physically healthy will give you the tools to achieve happiness and success.
What do you want to accomplish as an LITG Ambassador?
I want to inspire others to live the way they want by sharing my passions and accomplishments, whether that is via workshops or blog submissions. Working doesn't need to be a struggle or a form of modern slavery. Living in the grey is for everyone and will make the world a better place.
You can learn more about Mauro on his website or connect with him on Instagram or Twitter.
The Live Grey Ambassador Program is a collective of grey individuals dedicated to spreading the Live in the Grey message and helping others to blend their personal and professional lives. This series offers some of the wisdom they have to share as they progress on their journey.