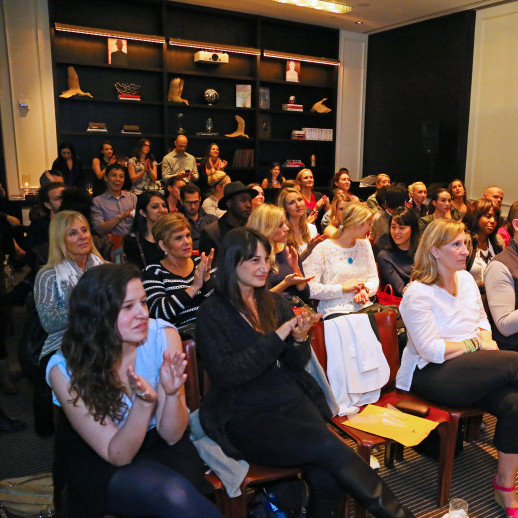 Last Thursday evening we teamed up with lululemon athletica to bring our LITGers in NYC the wisdom from three folks who side hustled their way into a life in the grey. Having a side hustle is often the stepping stone to a life in the grey - whether that's because it becomes your full time hustle or if it the very thing that makes you happier to do your 9 to 5. We were honored to have three side hustlers - actress/writer/entrepreneur Stephanie March, fitness entrepreneur/author Rupa Mehta and CEO and founder of Tasting Table, Geoff Bartokovics - join us at the beautiful Andaz 5th Avenue to share their wisdom with us.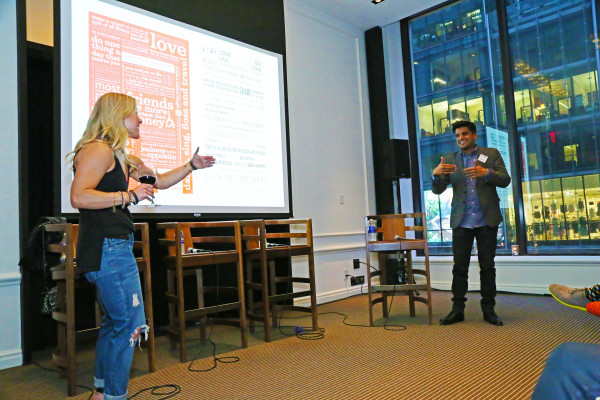 Julie Anderson of lululemon athletica and Maneesh welcome the crowd
We kicked off by hearing how each panelist developed their side hustle:
Geoff, who worked in finance, fell into his side hustle without knowing his passion. He liked entertaining (and is somewhat famous for it), but got clues from mentors and friends that helped him realize that he could take his somewhat nerdy passion for business and efficiency and  blend it with his interest in entertaining - thus the birth of Tasting Table.
Rupa's hustle really began when she got fired from a job as a fitness instructor. From there she began passing out flyers on the street for people to join her own classes. Ten years later, Nalini Method has grown into a popular UWS fitness studio, as well as a middle school program to teach children about fitness and emotional literacy and book, Connect to Your One.
You might best remember Stephanie March as ADA Alexandra Cabot on Law & Order: SVU. But as Stephanie got a little bored with acting, she began travel writing for Fathom Away and more recently partnered up with her former makeup artist from SVU to create Rouge New York, a makeup salon for women on the go.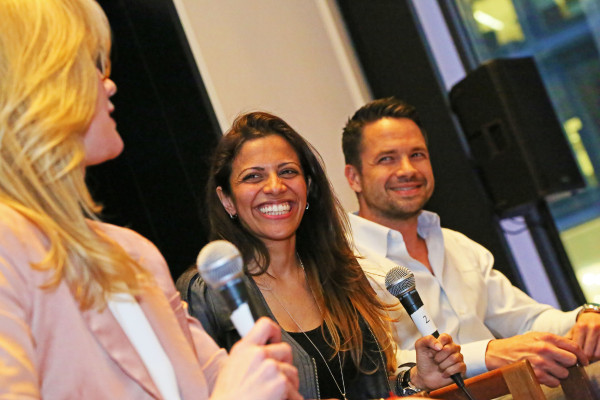 Stephanie March, Rupa Mehta and Geoff Bartokovics
The night was full of laughs and sage advice from the three panelists as they spoke about the ups and downs of the journey. An interesting discussion sparked after the panelists were asked what their 'one word' is, a question inspired by Rupa's book. Rupa's one word - the word that guides her business and life decisions - is connect. Geoff's is hurry because so often we wait for life to come to us. The word 'hurry' reminds Geoff to take action on his dreams and ideas. Stephanie's one word is curiosity, because "if you're curious, the world unfolds for you."
A major theme that came out of the night is that nothing is more important than your relationships. Often when you are out hustling, you might feel like you are on your own. Our panelists reminded us that it is when you are vulnerable and open, people don't shy away from you, they step up to help you.
So talk about what you are doing with everyone and ask for help. Stephanie said, "think about who you know and how you can help them. Leverage in the nicest way possible." This advice fell right in line with Rupa's acknowledgment that she still barters as much as possible, just like she did when she started out - "it creates a win win situation for everyone." Geoff pointed out that in this modern world, sometimes mentorship comes in the form of one 15 minute conversation with a person that has something to share. So be open, keep your ears open and remember to always say thank you!
The panelists delivered so much great insight, afterwards the crowd was buzzing with inspiration. Be sure to check out #LiveGrey for the full tweet-by-tweet convo. In the meantime, we'll leave you with the final pieces of advice our panelists had for all you side hustlers striving to live in the grey:
"Keep putting yourself out there." Geoff
"Remember that the biggest risk is not to live your life." Rupa
"Be honest with yourself about what you like and why you like it." Stephanie
[Be sure to check out Facebook for more great images by Will Haraldson]