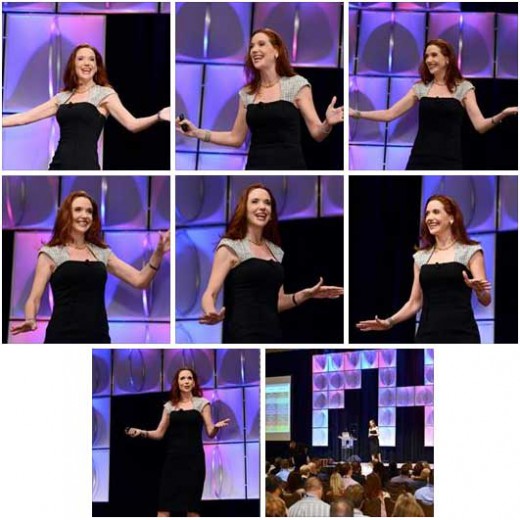 It's #FailureFriday! We're dedicating the end of the week to reframing our thoughts on failure.
This story about Sally Hogshead (queen of fascination) came through my inbox this week. Check out how she overcame a moment of failure that could have completely derailed her:
"True story… The moment I walked on stage for a recent big speech, my microphone died. No sound. Yikes. How can you over-deliver for your client if the audience can't hear the speech you flew 2,000 miles to deliver?
Always have Plan B ready, to keep your listeners engaged. That way, you won't get flustered, and they won't get bored. In this case I said:
"Don't worry, I've been trained in MIME… and I'll be delivering the entire speech in interpretive dance."
By the time the laughter died down, my new mic was ready to go, and the speech went on to a standing ovation!"
Nice recovery, Sally! (We think it's safe to assume the image above is Sally miming.)
To help us all soften the blow that sometimes occurs with public failures, Sally has come up with these 7 ways to create a Plan B:
1. Improv is where you thrive. Start off with a witty joke.
2. You've probably encountered problems before. Think back to the best methods you used to solve them.
3. Think of past success stories. If you can't access your presentation, be sure to know the highlights.
4. Get your audience comfortable with a friendly back-and-forth. Take some questions from the crowd.
5. Don't give away that anything is amiss. Confront the situation calmly and deliberately.
6. Take preventative measures such as doing a dry run before the presentation.
7. Take command of the situation. Have go-to opinions of authority to captivate and lead the group.
Have you used any of Sally's tips to reroute failure before? Share your experience with us below in the comments!