June 26, 2013
The Unexpected Journey: A Recap of our June Meetup in NYC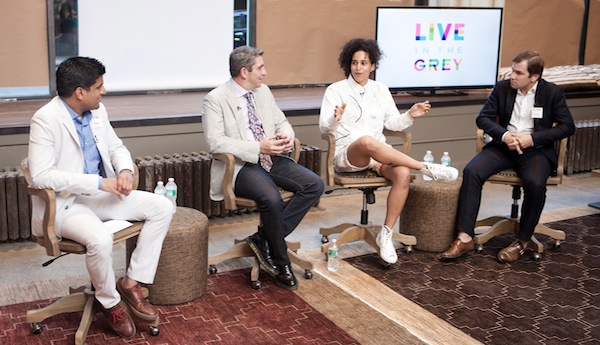 Last night we hosted our second NYC meetup at the brand new private workspace collective, Neuehouse. Our community gathered with special guests Richard Blanco and Shantell Martin for an evening of discussion and performance.
The night opened with a conversation between Richard, Shantell and LITG founders, Maneesh and David. Topics covered were varied including teaching, the value of performance and storytelling and even John Cougar Mellencamp. One of the most interesting themes of the evening was the idea of utilizing art and creativity as a conduit to self discovery.
Richard, who began his career as a civil engineer, is an American poet (recently selected by President Obama to read his original poem, "One Today" in the 2013 presidential inauguration) and shared with us that art brought him to a moment where "I had to investigate myself." He pointed out that writing served as a catalyst for both introspection and bravery in a way that engineering never did for him. After immersing himself in his art, Richard had the courage to come out, to reconnect with his family and to live honestly. "A necessity," he said, "when you create."
Shantell is a captivating visual artist who is known for "drawing on everything" (you may remember coverage of our April salon where we found her drawing on Laney Crowell's cell phone). When asked by an audience member how she gets better at drawing, Shantell gave an answer that surprised most, "I focus on improving myself." She says when she puts her energy into being a better person - eating better, exercising, being nicer - the byproduct is to also get better at what she loves, creating art.
The takeaway: Explore your creativity and allow the experience to teach you something about yourself. If you take the time to discover who you are, it will help you get better at what you do. 
The real treat of the evening came when both Richard and Shantell performed their art: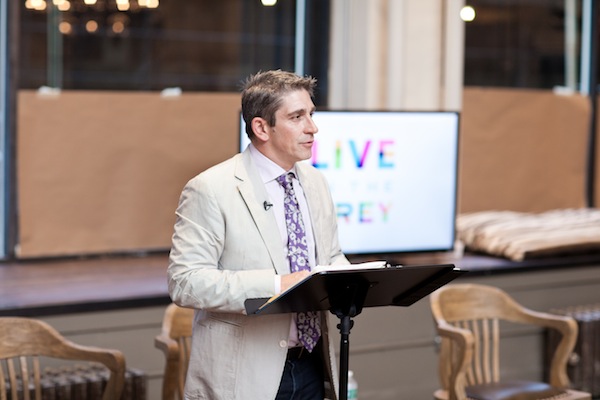 Richard read five poems with us, each with a preface to help us understand his mindset when creating each very personal piece.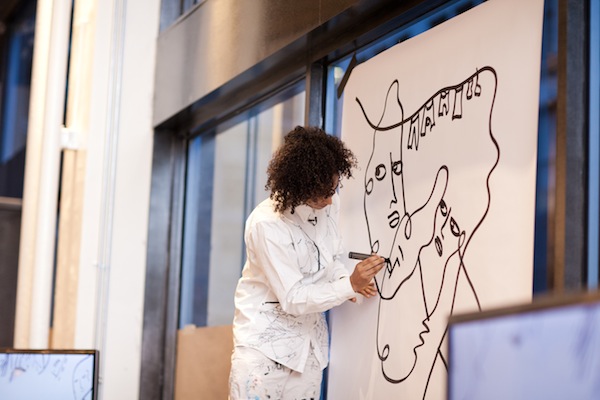 Shantell took us through her career journey - from London to Japan to New York - and explained how she creates each performance piece.
Inspiring + insightful quotes from the evening:
"I use my story as a passport to someplace else. The exchange of stories help connect us to other people" ~ Shantell
"I needed the left brain part of me a place to thrive. I find it balances my creative side." ~ Richard
On pursuing art as a profession: "There is only plan A. Plan B is also plan A." ~ Shantell
Keep checking back at LiveintheGrey.com for more coverage of the meetup!
[Images: CJ Isaac]