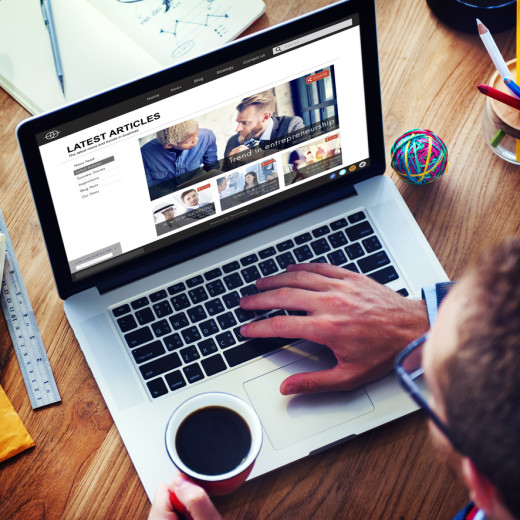 We scoured the web and found the best recent company culture articles. Below are our picks for must-reads and must-skims! (You can also subscribe to receive this culture digest in your inbox here.)
MUST-READS
1. Your Best Employees Will Quit. Here's What To Do About It
(Read here)
We need to acknowledge great employees aren't going to stay at their companies forever. Instead, let's focus on making employee departures as mutually respectful and beneficial as possible.
Highlight: "Top performers don't just work hard on your business. They work hard on themselves… You can—and should—help them achieve their own personal goals, but the reality is that you simply can't provide that for everyone."
2. Creating A Culture Where Employees Speak Up 
Dartmouth business professor Sydney Finkelstein drives home a culture goal we should all aspire to: employees who feel empowered to tell you the truth.
Highlight: "People are uncomfortable discussing emotions in the workplace. But neuroscience tells us that emotions greatly influence how we think… Ask yourself and those around you when making a decision, why did we choose this data to share? Why is it relevant? What is not being shown here? What example is less relevant? Even things as seemingly obvious as data or information is subject to interpretation"
3. Lessons From Tech Companies on Building Diverse Teams
As tech startups attempt to build more diverse workforces, a few standouts are crafting policies for improvement we can all learn from.
Highlight: "The Rooney Rule (named for Pittsburgh Steelers owner Dan Rooney, who headed the league's diversity committee) is simple. It requires teams to interview at least one minority candidate for every head-coaching and general manager vacancy."
4. How to Turn a Boring Job Into a Meaningful Career
Yale's Amy Wrzesniewski highlights how any job can be meaningful and exciting through "job crafting." Leaders looking to engage employees, take note.
Highlight: "Job crafting [is when] employees moulded their jobs to become more meaningful by adding extra tasks and interactions to their day, and also by changing their perception of their role… [Job crafting] can transform employees from passive consumers to coauthors of their work experience."
Hungry for more? Check out the rest of this month's note-worthy culture reads on our site for tips on beign an authentic leader, putting learning before training and building culture for remote teams.
SKIM-WORTHY READS
5. This CEO Encourages Her Employees to Start Their Own Companies
Once upon a time, CEO of Polyvore Jess Lee found her inner entrepreneur under Marissa Mayer's wing at Google. Today she helps her employees do the same thing because, ultimately, it enables them to do better work.
Highlight: "We specifically designed a lot of the culture and processes at Polyvore to make it so that anybody could learn different aspects of how to run a company, so they could one day run their own company… What keeps people around is opportunities where they might learn something or grow."
6. Corporate Culture is the Most Important Criteria in Forging Partnerships
New research finds the most important characteristic companies look for when deciding with whom to form partnerships is corporate culture.
Highlight: "The majority of our respondents (60 percent) said that knowing what a company stands for is much more important in choosing a corporate partner than whether it's innovative (21 percent) or dominates its market (20 percent)."
7. Becoming a More Authentic Leader on HBR Ideacast
HBS professor and authentic leadership expert Bill George discusses authenticity as a leadership strategy. In light of scandals like Volkswagen's, his advice feels more needed than ever.
Highlight: "The kind of leaders that I really admire [are] real in the face of adversity. It's easy to be real when things are going well… Integrity is not just telling the truth, it's telling us the whole story."
8. The Secret to Winning the Talent War
LinkedIn's Chief Learning Officer Palmer Kelly Palmer explains why "learning" has become a huge competitive advantage for her company.
Highlight: "I hear business leaders use these terms [training and learning] interchangeably, but they're far from synonymous. Most businesses don't facilitate learning; they conduct training. A business trains employees to do something, and in return, the employees use that training for the intended purpose of growing the business. But learning isn't a trade agreement you make with your employees in which you teach them something they can only use to help you grow your profits. It's something you invest in to provide value to your team and help each employee become better."
9. 6 Lessons on Scaling Company Culture
For quickly growing software company Hubspot, defining a "culture code" has made all the difference in building a strong employee brand and attracting talent.
Highlight: "Make [your culture] aspirational. When you're first thinking about culture, there's a ton of work to do. That's why culture is partly aspirational–especially in the beginning. Burke advises businesses of every size to ask employees what they want, and be willing to act on what they share immediately."
10. The Power of Purpose at Work
Mythic LinkedIn co-founder Reid Hoffman outlines the pivotal role that mission and purpose played in growing LinkedIn.
Highlight: "My co-founders and I were determined to preserve our shared sense of purpose as a core value, even as we grew. In job interviews, and then again, in new hire orientations, we always emphasized our guiding value: Individual LinkedIn members always come first. Any addition or change we make to the platform must improve it in ways that help individual members increase their economic opportunities."
11. Is "Business Ethics" an Oxymoron?
New research reveals our tendency frame ethical business practices in terms of the bottom line. Instead of arguing that businesses simply should do something (like lower their carbon footprint), we favor the economic case. Business leaders should consider what kind of message this sends about their values.
Highlight: "When researchers asked people to list the qualities they saw as critical for being an effective business leader, these were a few of the top terms: intelligent, motivated, dynamic, strong, charismatic. Here are some words that didn't emerge: ethical, moral, fair, transparent, honest, principled, virtuous, [and] honorable."
12. Tips for Keeping Culture Intact on Remote Teams
How do you foster culture when employees are spread all over the globe? These tips help lay the groundwork for better communication across distance.
Highlights: "While it's not strictly necessary to venture outside your immediate team, making an effort to reach out to other remote workers can heal some of the damage [of remote working.] Chat with everyone. Ask how their day is going. These conversations don't have to be lengthy, intense discussions. It's just a matter of maintaining friendly relationships"
Would you like to receive our culture article digest in your inbox? Subscribe here!